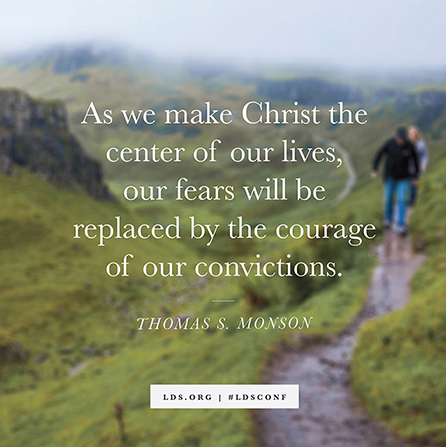 "
As we make Christ the center of our lives, our fears will be replaced by the courage of our convictions." —President Thomas S. Monson, "
Be an Example and a Light
"
11 And now it came to pass when Lachoneus received this epistle he was exceedingly astonished, because of the boldness of Giddianhi demanding the possession of the land of the Nephites, and also of threatening the people and avenging the wrongs of those that had received no wrong, save it were they had a
wronged
themselves by dissenting away unto those wicked and abominable robbers.
12 Now behold, this Lachoneus, the governor, was a just man, and could not be frightened by the demands and the threatenings of a a
robber
; therefore he did not hearken to the epistle of Giddianhi, the governor of the robbers, but he did cause that his people should cry unto the Lord for b
strength
against the time that the robbers should come down against them.
Lachoneus had faith in God and was a righteous leader. He knew of the wickedness of the robbers.
30 And now remember, remember, my brethren, that whosoever perisheth, perisheth unto
himself
; and whosoever doeth iniquity, doeth it unto himself; for behold, ye are
free
; ye are permitted to act for yourselves; for behold, God hath given unto you a
knowledge
and he hath made you free.
Of every tree … thou mayest freely eat:

Gen. 2:16

.
1 And Ben-hadad the king of Syria gathered all his host together: and there were thirty and two kings with him, and horses, and chariots: and he went up and besieged Samaria, and warred against it.
2 And he sent messengers to Ahab king of Israel into the city, and said unto him, Thus saith a
Ben-hadad
,
3 Thy a
silver
and thy gold
is
mine; thy wives also and thy children,
even
the goodliest,
are
mine. 1 Kings 20
Strength
calling upon God, he received strength:
Moses 1:20
.
Christ
they cried unto the Lord for strength
Sisters, we live in "perilous times."
2
The conditions of our day should not be a surprise to us. They have been foretold for millennia as a warning and admonition so that we can be prepared. The
8th chapter of Mormon
gives a disconcertingly accurate description of the conditions of our day. In this chapter, Moroni says he has seen our day, and it includes wars and rumors of wars, great pollutions, murders, robbing, and people who tell us that there is no right or wrong in God's eyes. He describes people who are filled with pride, caught up in the wearing of expensive clothing, and who make fun of religion. He is shown people who are so obsessed with worldly things that they allow "the needy, and the naked, and the sick and the afflicted to pass by"
3
without being noticed.
President Russell M. Nelson told us a year ago: "Attacks against the Church, its doctrine, and our way of life are going to increase. Because of this, we need women who have a bedrock understanding of the doctrine of Christ and who will use that understanding to teach and help raise a sin-resistant generation. We need women who can detect deception in all of its forms. We need women who know how to access the power that God makes available to covenant keepers and who express their beliefs with confidence and charity. We need women who have the courage and vision of our Mother Eve."
7
This message reassures me that despite the conditions of our day, we have many reasons to rejoice and be optimistic. I believe with all of my heart that we sisters do have the innate strength and faith that will allow us to meet the challenges of living in the last days. Sister Sheri Dew has written, "I believe that the moment we learn to unleash the full influence of converted, covenant-keeping women, the kingdom of God will change overnight."
8
I love the gospel of Jesus Christ, and I am eternally grateful for the direction, power, and daily help I receive as a covenant daughter of God. I testify that the Lord has blessed us, as women who live in these perilous times, with all of the power, gifts, and strength that are needed in order to prepare the world for the Second Coming of the Lord Jesus Christ. I pray that we may all see our true potential and rise up to become the women of faith and courage our Father in Heaven needs us to be. In the name of Jesus Christ, amen.
Have faith in the Lord. Pray often and keep the commandments. We can be strong and have the strength of the Lord.
Philippians 4:13 I can do all things through Christ which strengtheneth me.
246 Onward Christian soldiers
260 Who's ON The Lord's Side Who