1 Nephi 20:21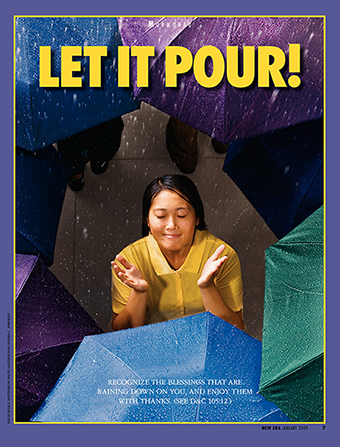 Recognize Your Blessings
What
21 And they a
thirsted
not; he led them through the deserts; he caused the waters to flow out of the b
rock
for them; he clave the rock also and the waters gushed out.
When you trust in the Lord He will do marvelous things for you.
Why
When people are obedient and trust in the Lord they receive blessings.
Pattern
33 He turneth rivers into a wilderness, and the watersprings into dry ground;
34 A fruitful land into barrenness, for the
wickedness
of them that dwell therein.
35 He turneth the
wilderness
into a standing water, and dry ground into watersprings.
36 And there he maketh the hungry to dwell, that they may prepare a city for habitation;
37 And sow the fields, and plant vineyards, which may yield fruits of increase.
17
When
the poor and needy seek water, and
there is
none,
and
their tongue faileth for thirst, I the Lord will hear them,
I
the God of Israel will not
forsake
them.
18 I will open
rivers
in high places, and fountains in the midst of the valleys: I will make the
wilderness
a pool of water, and the dry land springs of water.
19 I will plant in the wilderness the cedar, the
shittah
tree, and the myrtle, and the oil tree; I will set in the desert the
fir
tree,
and
the
pine
, and the box tree together:
20 That they may see, and know, and consider, and understand together, that the hand of the Lord hath done this, and the Holy One of Israel hath
created
it.
6 Behold, I will stand before thee there upon the rock in Horeb; and thou shalt
smite
the
rock
, and there shall come
water
out of it, that the people may drink. And Moses did so in the sight of the elders of Israel.
11 And Moses lifted up his hand, and with his rod he
smote
the
rock
twice: and the
water
came out abundantly, and the congregation drank, and their beasts
also.
20 And now, my brethren, I have spoken plainly that ye cannot err. And as the Lord God liveth that
brought
Israel up out of the land of Egypt, and gave unto Moses power that he should
heal
the nations after they had been bitten by the poisonous serpents, if they would cast their eyes unto the
serpent
which he did raise up before them, and also gave him power that he should smite the
rock
and the water should come forth; yea, behold I say unto you, that as these things are
true
, and as the Lord God liveth, there is none other
name
given under heaven save it be this Jesus Christ, of which I have spoken, whereby man can be saved.
26 And they who are in the
north
countries shall come in remembrance before the Lord; and their prophets shall hear his voice, and shall no longer stay themselves; and they shall
smite
the rocks, and the ice shall flow down at their presence.
27 And an
highway
shall be cast up in the midst of the great deep.
28 Their enemies shall become a prey unto them,
29 And in the
barren
deserts there shall come forth pools of
living water
; and the parched ground shall no longer be a thirsty land.
30 And they shall bring forth their rich
treasures
unto the children of Ephraim, my servants.
Christ
He is our salvation and He is the one who causes the water to flow that we will not be thirsty. Physically and certainly, spiritually.
As I have reviewed the past 49 years, I have made some discoveries. One is that countless experiences I have had were not necessarily those one would consider extraordinary. In fact, at the time they transpired, they often seemed unremarkable and even ordinary. And yet, in retrospect, they enriched and blessed lives—not the least of which was my own. I would recommend this same exercise to you—namely, that you take an inventory of your life and look specifically for the blessings, large and small, you have received.
Reinforced constantly during my own review of the years has been my knowledge that our prayers are heard and answered. We are familiar with the truth found in 2 Nephi in the Book of Mormon: "Men are, that they might have joy."
1
I testify that much of that joy comes as we recognize that we can communicate with our Heavenly Father through prayer and that those prayers will be heard and answered—perhaps not how and when we expected they would be answered, but they
will
be answered and by a Heavenly Father who knows and loves us perfectly and who desires our happiness. Hasn't He promised us, "Be thou humble; and the Lord thy God shall lead thee by the hand, and give thee answer to thy prayers"?
2
...

I never cease to be amazed by how the Lord can motivate and direct the length and breadth of His kingdom and yet have time to provide inspiration concerning one individual—or one cultural celebration or one Jumbotron. The fact that He can, that He does, is a testimony to me.
My brothers and sisters, the Lord is in all of our lives. He loves us. He wants to bless us. He wants us to seek His help. As He guides us and directs us and as He hears and answers our prayers, we will find the happiness here and now that He desires for us. May we be aware of His blessings in our lives, I pray in the name of Jesus Christ, our Savior, amen.
APRIL 2011
|
Carl B. Pratt
Of the Seventy
The Lord's Richest Blessings
There is a possibility of misinterpretation in this story from my grandparents. We might conclude that since we pay tithing with money, the Lord will always bless us with money. I tended to think that way as a child. I have since learned it doesn't necessarily work that way. The Lord promises blessings to those who pay their tithing. He promises to "open … the windows of heaven, and pour … out a blessing, that there shall not be room enough to receive it" (
Malachi 3:10
).
I testify that He fulfills His promises, and if we faithfully pay our tithing, we will not lack for the necessities of life, but He does not promise wealth. Money and bank accounts are not His richest blessings. He blesses us with wisdom to manage our limited material resources, wisdom that enables us to live better with 90 percent of our income than with 100 percent. Thus, faithful tithe payers understand provident living and tend to be more self-reliant.
I have come to understand that the Lord's richest blessings are spiritual, and they often have to do with family, friends, and the gospel. He often seems to give the blessing of a special sensitivity to the influence and guidance of the Holy Spirit, especially in marriage and family matters like raising children. Such spiritual sensitivity can help us enjoy the blessings of harmony and peace in the home. President James E. Faust suggested that the payment of tithing is "an excellent insurance against divorce" ("Enriching Your Marriage,"
Liahona,
Apr. 2007, 5;
Ensign,
Apr. 2007, 7).
Apply
As I study this scripture and the talks that support it of how the Lord blesses us, it increases my understanding of the Love and care that I have received in answer to prayers and in response to hard circumstances beyond my control. I am blessed abundantly with the things that matter most. I am grateful.
92-For the Beauty of The Earth
228-My Heavenly Father Loves Me
10-thank thee For Everything